Spending for Direct Response Outpaces Branding in Online Ads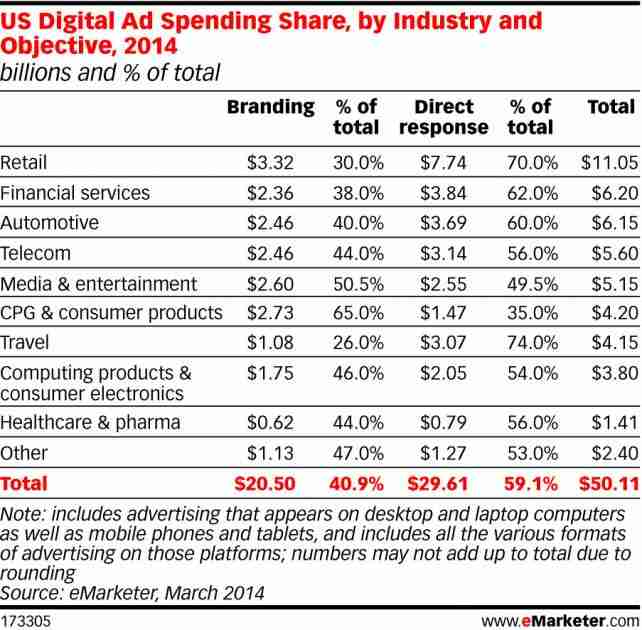 Digital advertising is growing by leaps and bounds with spending growth seen in both direct response advertising and branding. However, a higher percentage of online advertising dollars goes to direct response, according to a recent eMarketer report. Out of the $50 billion that advertisers in the U.S. will spend on online ads in 2014, 59.1% will be spent on direct response, the report noted.
This spending seems to reflect the idea that when it comes to the digital sphere, many believe the best way to drive sales is to place the right advertising message in front of the right target audience at the right time. That way the audience has an immediate opportunity to make a purchase or transaction.
What Contributes to Higher Spending on Direct Response?
One of the major factors contributing to more digital spending on direct response is the increase of mobile ad spending, according to Advertising Age. On mobile, the ads seen most often are app install ads and related direct response ads.
Branding messages simply aren't communicated as effectively on the smaller screens of smartphones and tablets. In addition, the mobile landscape is ripe with opportunities to offer audiences direct response ads featuring location-based deals.
Another factor is the introduction of in-app native ad formats and products in Facebook, Google and Twitter, which is driving more advertising dollars into direct response advertising that involves app-installs.
Industries That Highly Favor Direct Response
Certain industries lean even more heavily on direct response in their digital advertising than others, eMarketer explained. Those include retail and travel, both of which have direct response percentages at 70% or higher of total online advertising spending.
Mobile Vs. Desktop Ad Spending
While more ad dollars are flowing into mobile ads, spending still favors desktop advertising. In 2014, 64.6% of digital ad spending was devoted to desktop, as opposed to 35.4% for mobile. The industry leaning most heavily on mobile ads is retail, which spends 37% of its online ad dollars on mobile advertising.
The Takeaway
Companies are realizing the numerous advantages of direct response advertising when it comes to maximizing their digital ad campaigns. Their spending priorities reflect the belief that when you want to encourage sales, the best way to do so is to urge your target audience to respond immediately.
About Bigfin.com
Bigfin.com LLC is an industry leader in digital advertising, including microtargeting and mobile advertising. We also offer comprehensive digital marketing solutions including SEO, web design and social media. Looking for online marketing or web development services? Contact us online or by phone at 425-822-8200.