School is in Session: Web Development Vocabulary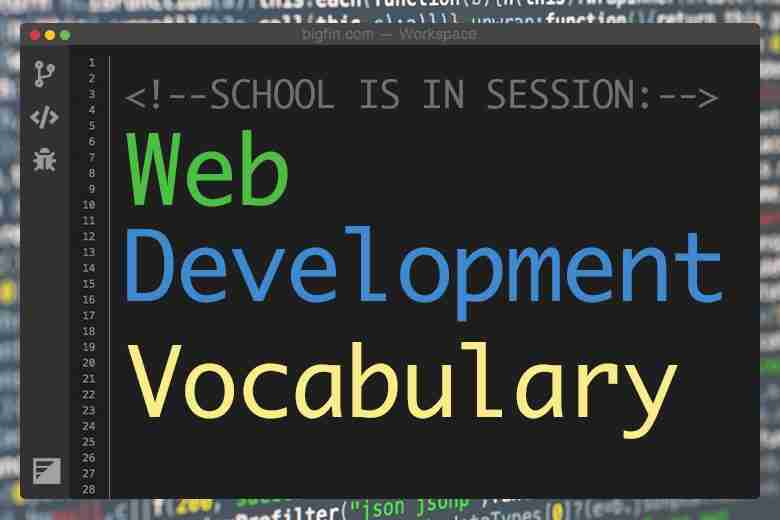 In the spirit of teaching, Bigfin is here to expand your knowledge. We kicked off the learning season with marketing vocabulary before the school year started. Graduating further, we will dive into important web development vocabulary to get you ready for your next client or agency meeting. Whether you are in the industry or have no experience in web development, understanding industry jargon can help leverage your understanding.  Read our blog to become familiarized with web development vocabulary to gain a better understanding of your next web project.
Domain Name
One of the most important things to know is a domain name. It is simple; the name of your website is your domain name. A combination of letters and numbers can make up the domain. For example, Bigfin's domain is: bigfin.com.
HTML 
Next, HTML stands for hypertext markup language. It is the standardized language that is utilized to create websites and web pages.  Generally, HTML is used to help direct a system to understand and identify what is an image and what is text. Remember Myspace? From adding glitter images to changing the background color of your profile, these are both examples of HTML.
404 Error
Have you ever reached a page and saw no content other than text that read "404 error"? That means the page you visited does not exist anymore or is broken. This can occur when a page has been deleted or the user did not type the correct URL.
Back-End
Back-end development is behind-the-scenes work.  In comparison, front-end development will feature what an online user interacts with and sees while back-end features completed work on the server.  The four essential components of a software stack that make up back-end development are: server, database, operating system, and software.
CMS
Finally, CMS stands for Content Management System. WordPress is one example of a popular CMS which allows website owners to easily manage content. Editing and publishing content is simplified enough to do it yourself—therefore you do not need to be an expert to make necessary changes and updates. Most importantly, your CMS can only be accessed with a login.
Need a New Website? Contact Bigfin Today!
Bigfin.com is an industry leader in online advertising, SEO and custom web design. Our comprehensive digital marketing solutions include social media management as well as social media advertising on Facebook, Twitter, Google+, Pinterest, LinkedIn, and other social outlets. Looking for mobile website solutions or help with search engine marketing? Contact us online or by phone at (425) 822-8200.