New Bing Design and Search Features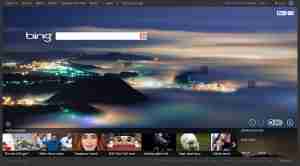 The Microsoft search engine Bing received a major design overhaul and added a new layer of insight to its search function in a recent rebuild referred to as the "New Bing," the company announced. Microsoft is hoping the new Bing design— which includes a snazzy new logo — will lure more people away from the search engine's key rival, Google.
Bing Improved Search
When someone conducts a Bing search, the search engine now provides more contextual information through its new "Glance" feature, according to the Guardian. To accomplish this, Bing combined its existing Snapshot and Sidebar features, which stored user information and pulled friends' data from social networks, respectively, the article explained. This desired outcome is more search results that are custom tailored to the user and ideally more relevant to their interests.
"Throughout the year, we've learned a lot about when people need factual information and when they need a human perspective," wrote Lawrence Ripsher, Bing general manager of user experiences, in the Bing Search Blog.
Page Zero
Bing also hopes to help users find what they're looking for without even having to actually search for it, the blog explained. Bing's new Page Zero function shows users answers and suggests various actions before they even see Page 1 of the search results. For example, typing in the words "John Lennon" will immediately provide options for images, videos, news and biography.
Another goal of the Page Zero search feature is "intelligent disambiguation," the blog explains. When users enter a search query that's associated with a similarly named person or thing, it offers the most likely items you are searching for as a user. For example, if you enter the search term "Madonna," both the entertainer and the self-titled album immediately come up as Page Zero options before you've even clicked to begin your search.
A New Interface
Along with improved search capabilities, the new Bing design also includes a facelift. Everything from the fonts to spacing to colors was re-evaluated and changed in an effort to make the search engine as functionally and aesthetically pleasing as possible, according to Bing's Search Blog.
Included in this design revamp is a new logo with an angled, lowercase "b" that represents a customized version of Microsoft's corporate font "Segoe," according to another Bing blog post.
How Do You Feel About the New Bing?
Bigfin.com LLC is an industry leader in search engine optimization, web design and social media. Looking for online marketing or web development services? Contact us online or by phone at 425-822-8200.